Installation by Bob Gruen
Subway  Gallery hosts  TEENAGE  BEDROOM  an  installation  by renowned New York 
rock  photographer  Bob Gruen . We have invited Gruen to present an exhibit he first 
produced in 2007 for his solo exhibition "Rockers"  at  the  FAAP University  Museum 
in Sao Paulo , Brazil. Several  versions of  TEENAGE  BEDROOM  have  been exhibited 
since , including an  installation consisting of a  20 foot  long photo collage shown at 
New York's Museum of Modern Art in the summer of 2009, which ran for six months.
The installation consists of a room with the walls covered in pages  and covers of 
magazines  and posters , all  featuring  Gruen's  rock  photos , depicting  a typical 
bedroom  decor of  teenage  rock fans  around  the world . This  exhibit  will  also 
include  a video and photos from the famed downtown  New York hangout  Max's 
Kansas City , photos  from  CBGB  and a selection of Gruen's  classic  rock photos.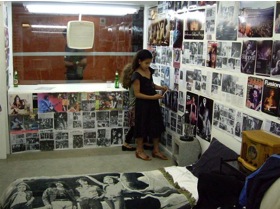 Mick Jagger & Keith Richards, NYC – 1972
      Dali & Alice Cooper – Brain of A Popstar, NYC – 1973
      Led Zeppelin - In Front of Plane, NYC – 1973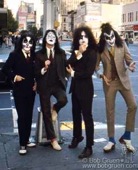 Clash, Live in Boston  1979
Sid Vicious - I'm A Mess, San Antonio, TX  1978
KISS - Dressed to Kill, NYC  1974
          WEST END EXTRA 4 JUNE  2010