Sam Haggarty & Denise Felkin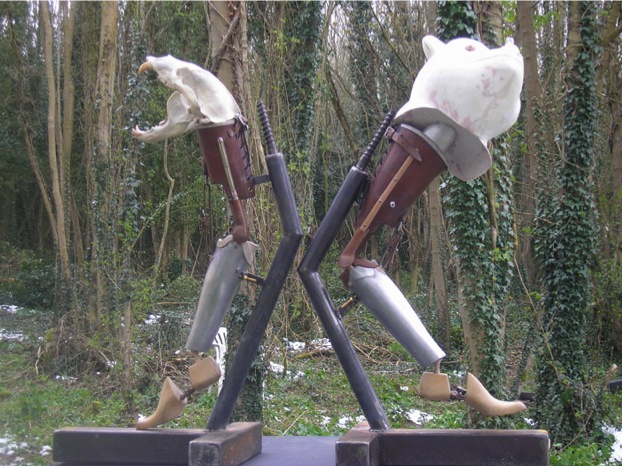 Sam Haggarty and Denise Felkin collaborate to present an inspiring creation of figurative
sculpture and painterly photography. Within the Subway Gallery  surreal images are
displayed on a variety media.Sam Haggarty shows a series of mutated creatures sculpted from fibre glass , found objects and animal forms and juxtaposes these with natural and man made objects. Driven on the fact the word 'photography'comes from two Greek words conjoined to mean 'light-writing', Denise Felkin displays photographs of Mutoid Waste Co sculptures and installations and captures the essence of these in her own way.
Sam Haggarty Joe Rush and Hymen Strap (Strapper) are original members of the Mutoid Waste Company, formed during the mid-1980s. The group became famous for their
'warehouse' parties, hosted in disused buildings; here they first exhibited their now iconic welded sculptures, customised cars and large scale murals. Debi Lord (Debs Wrekon)
joined them in the early 1990's and with Strapper formed Wrekon. Mutoid Waste Co / Wrekon have gained noteworthy reputations over the last decade hosting successful events around the world, earning plaudits from the global press and recognition from British and Italian art establishments.
Sam Haggarty has exhibited his work at many festivals including Glastonbury Festival, Fuji Rock Festival, Notting Hill Carnival and The Royal Academy. Denise Felkin is a photo artist, she studied Fine Art at University of Sunderland and graduated in 1994. Denise has exhibited in Brighton through Phoenix Arts, Brighton Festival / Fringe Festival, Brighton Photo Biennial / Photo Fringe. Her photography has also been projected onto the façade
of houses in Brighton, hung in the Brighton Museum and Art Gallery and around Brighton, including a commission from Brighton and Hove Council, The Custard Factory,Birmingham, and an runner up in an European Award for Female Photographers 2000 at Provincia di Prato, Italy. Inspired by their work and what they are about Denise first photographed  Mutoid Waste Company 'Unnatural History Museum'  at  Glastonbury Festival in 2005.
Sam Haggarty and Denise Felkin met after she photographed  Wrekon sculptures at The Rocket Festival, Spain 2006 and invited Sam and Joe Rush to exhibit sculptures on her balcony in Central Brighton, as part of Brighton Photo Biennial and Photo Fringe Festival
in a show that combined sculpture and photo art. Brighton and Hove Arts Commission Grassroots project helped fund this exhibition curated by Denise. She created a fine art multi-media exhibition that combined photography that mimics painting and sculpture.
In December 2007, Denise Felkin's photograph of a sculpture created by  Debs Wrekon   was part of an online interactive photography montage created by artist Helen Marshall, as part of the Photographers Gallery.
The same photographic show exhibited at the Subway Gallery, is also at The Rocket Festival in  Spain,  in the form of an installation that involves digital images projected within a traditional gold frame, alongside Wrekon sculptures (16th-18th May 2008)
www.denisefelkin.com