FINTAN FRIEL
●
DIGITAL PRIMATE 
HOLLY-ANNE BUCK
●
ADAM MILBURN
OPENING / CLOSING EVENTS: 
FRIDAY 14th & 28th FEBRUARY 6-9 PM
EXHIBITION  15-28 FEBRUARY 2014
This edition of MERE COINCIDENCE? at the Subway Gallery is a collaborative installation
which considers contemporary electronic music in terms of it's performance, aesthetics
and consumption.
Fintan Friel's neon sign work lights the gallery space with other club style lighting while
Digital Primate plays live original music at the closing event of the exhibition.
Friel's practice is based on a consideration of how non-material (musical) forms become rendered into the physical to formulate contemporary aesthetics, and this exhibition
features work which remixes visual references from Techno, Pop, and Street-Art.
The format of the show mimics the style of a nightclub and the audience is invited
to a pop-up club called 'Mere Coincidence?'. 
Digital Primate (Christopher Coe) is a sound artist, producer and DJ who has previously exhibited at The National Gallery of Australia in Canberra and collaborated with Zbigniew Karkowski, Atau Tanaka and Stelarc. He has performed in a variety of nightclub venues
from Tresor in Berlin to his own club Centriphugal in Melbourne. Recently his visual artwork, has been commissioned by German electronic label Desolat for their "X" series of releases, and this will be exhibited at Subway Gallery.
Collaborators Holly-Anne Buck and Adam Milburn present a piece of Sonic and Visual Collagism in ALIENESE 24 HOUR, which is a new video work that explores "the internet
of you, me, them and whatever is now". #Collagism. Now based in London, the pair,
originally from Melbourne, Australia, began collaborating whilst living in Tokyo in 2002
with their Audio Visual project Mink Engine. Together their multidisciplinary work
has been shown widely around the world. As artists and producers their work explores
the relationship between sound and pictures.
UNTITLED (Pink Dust) 2011  C-Print 50 x 36 cm
UNTITLED  2012  Giclee Print  120 x 120 cm
FINTAN FRIEL 
UNTITLED (Achill Island)  2011  C-Print 50 x 36 cm
FINTAN FRIEL 
UNTITLED (Mixmag Cover)  2012  
Giclee Print  105 x 80 cm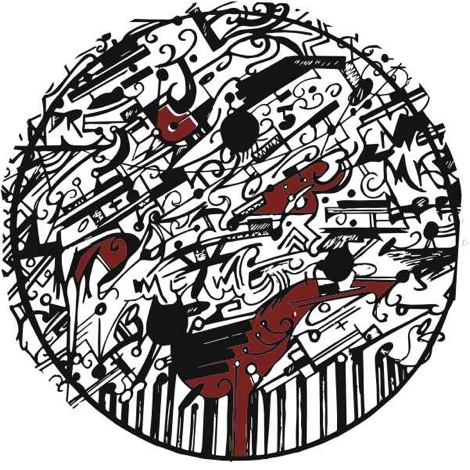 DIGITAL PRIMATE
DESOLAT X021 A Side  2014
Giclee print on Canson Aquarelle Rag 310gsm 100% Cotton paper 110 x 110 cm
DIGITAL PRIMATE
DESOLAT X022 A Side  2014
Giclee print on Canson Aquarelle Rag 310gsm 100% Cotton paper 110 x 110 cm
DIGITAL PRIMATE
DESOLAT X023 A Side  2014
Giclee print on Canson Aquarelle Rag 310gsm 100% Cotton paper 110 x 110 cm
HOLLY-ANNE BUCK & ADAM MILBURN
ALIENESE 24 HOUR  2014
Projected video piece, wallpaper installation and collaged masks