FUNDRAISING ART EXHIBITION & GIFT SHOP
14-22 DECEMBER 2013   OPEN ON SUNDAYS
JULIAN YEWDALL   MR WIM   TROLLEY   PAUL SIMONON   
KEIRA RATHBONE  HORACE PANTER  R.G. McHARG III  
ALEX MAHOOD   ANNIE MACKIN   HAYDEN KAYS 
KELLY JESSIMAN  HACKENBUSH & HOPEWELL  BOB GRUEN  TOM FOZARD   GRANT FLEMING   SHEPARD FAIREY   
CRISPIN CHETWYND   ALEX COX   AND MORE...
Subway Gallery is proud to host and curate STRUMMERVILLE SHOW, 
a fundraising art exhibition and gift shop. 
Strummerville - the Joe Strummer new music foundation - is a registered not for 
profit music charity that was set up by the friends and family of Joe Strummer 
in the year after his death. Strummerville gives opportunities to aspiring 
musicians and support to projects that create social mobility through music. 
Registered Charity Number - 1104165
For nine days, the gallery will be turned into a "charity shop", selling Strummerville 
merchandise: calendars, christmas cards, T-shirts, tops, hats, badges, pins, books and 
postcards. We will be showcasing artworks donated by UK and international artists,
 including world renowned Shepard Fairey - Obey Giant - musicians Paul Simonon
- The Clash, Horace Panter - The Specials and rock photographer Bob Gruen.
Originals, prints, photographs and mixed media will be available to purchase.
Live music / busking bands performances at various dates, for info please check:
THE CLASH HITS BACK CD signed by Mick Jones, Paul Simonon, Topper Headon
raffle ticket price £ 1.01
JOE STRUMMER - Hero Stamp Series 2004
Screen Print Signed Artist Proof 1/3 (Ed. 50)  89 x 114 cm
STRUMMER CANVAS PRINT  2010
Screen Print Signed by Shepard Fairey and Kate Simon Artist Proof 384/450 46 x 61 cm  
KNOW YOUR RIGHTS (OBEY Strummer)  2011
Screen Print Signed Artist Proof (Ed. 150)  30 x 30 cm
OLD SKOOL PUNK - PASSION IS A FASHION - GIVEM ENOUGH ROPE - ROCK THE CASBAH  2013
Vinylstickers  6.8 cm diameter per letter   -  POSTCARDS 2013 
PENNIE SMITH COMBAT ROCK LP PHOTOCARD  2013
Signed by Mick Jones, Paul Simonon, Topper Headon  21 x 29.7 cm
ZOLTAR THE MAGNIFICENT by Dan Macmillan and Kieron Livingstone 2013
TROLLEYOLOGY edited by H.Watson and J.Ramsay 2013
GENTLE ART by Iphgenia Baal  2012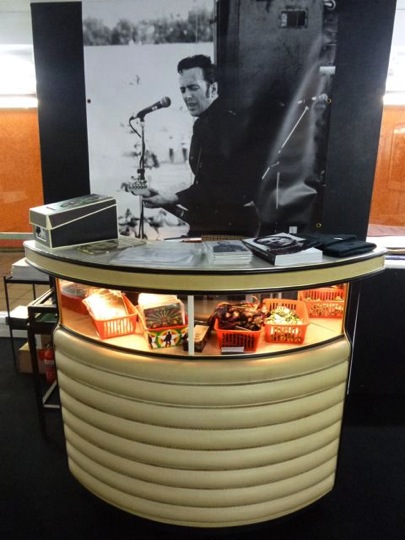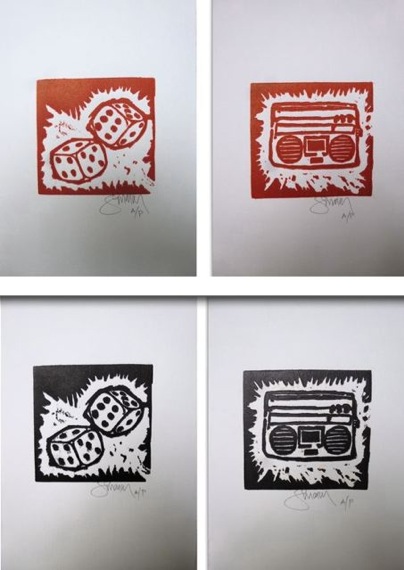 UNTITLED red 2013 - UNTITLED black 2013 
Prints feature in The Armagideon Times special edition - The Clash SOUND SYSTEM boxset
Linocut prints - set of 2 - Oil ink on Somerset paper  Signed Artist Proof  18 x 25 cm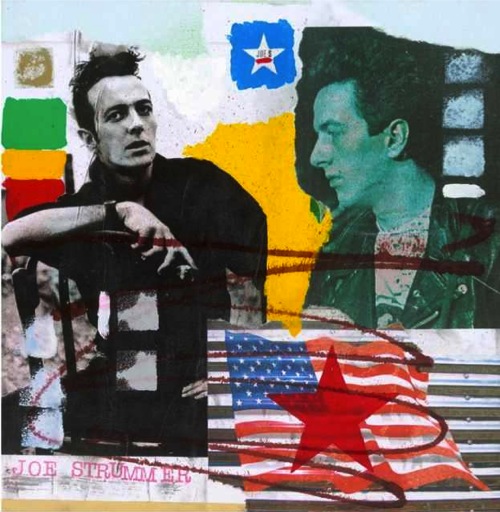 JOE STRUMMER 12"  2013
Giclée print on Ultrachrome HDR light-fast 285gsm paper  
Signed Artist Proof 3/5 - Ltd. Edition of 10  30 x 30cm
JOE & PAUL - VFest 2000, Chelmford  2000
Signed Photo Print produced by Printspace London on Fuji Crystal Archive Gloss paper 41 x 51 cm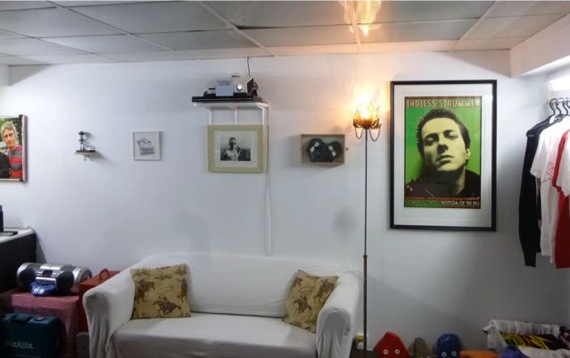 DEATH OR GLORY  2013  Clay wire, acrylic, wood, paper, leather 12 W x 15 H x 6.5 D cm
MY WEAPON OF CHOICE  2013  
Giclee print on German etching paper Signed Ltd. Edition 101/150   20 x 20 cm
JOE STRUMMER, TOP OF THE ROCK, NYC 1981 
Signed B&W Silver Gelatin Fiber Base Photo Print  28 x 35.5 cm
ROCKIN' NINJAS 2013  Rocks, Gloss paint  22 W x 20 H x 4 D cm approx.
ENDLESS STRUMMER 2007
Screen Print poster signed by C.Sperry and J.Yewdall  Ltd. Edition 238/250 - 60 x 90 cm
JOE 2013  Mono-block print, ink on paper - one off  18 x 24 cm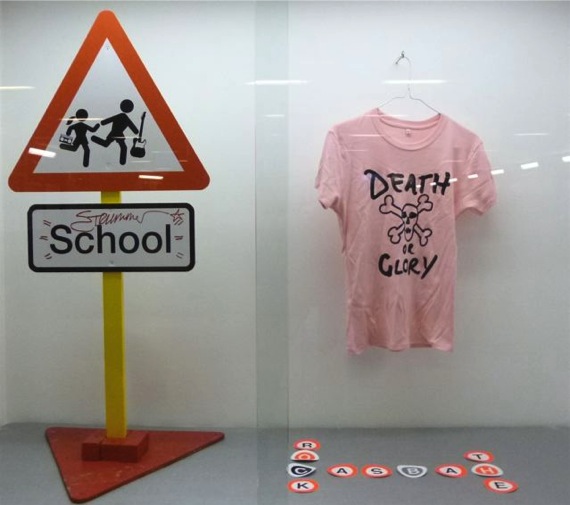 WITHOUT PEOPLE YOU'RE NOTHING  2013   Screen Print poster - Edition of 25  42 x 59.4 cm
JOE STRUMMER JACKNIFEPOSTERS  2010
Signed Screen Print
 Numbered Limited Edition of 101  37.5 x 76 cm
JOE  2013
screen print, black ink, white paper Signed Edition 1/10  29.7 x 42 cm
IT IS FUN TO BE ALIVE. IT'S A HELL OF A LOT BETTER THAN BEING DEAD  2013
typewriter and ink on cartridge paper  21 x 29.7 cm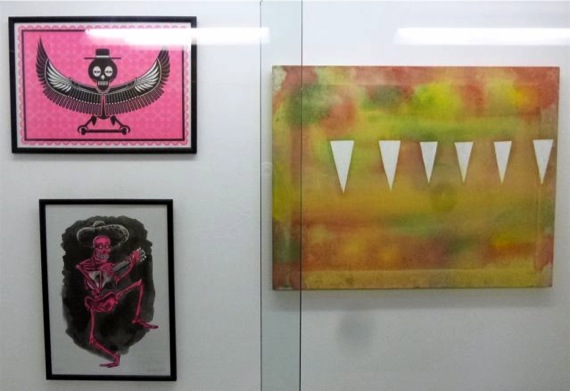 GUANAJUATO MUMMY BIRD 2012 - SKELETON DANCE  2013
Risiograph  42 x 29.7 cm  Signed and Numbered  Edition of 20
CAMPSITE 2013  oil on canvas 52 x 67cm
High & Ham - Wood & Vale 19.12.2013